Music House
in Kirtipur / Kathmandu Valley
Facebook: Music House Kirtipur
«If you can dream it, you can do it»

Music lessons for children, rehearsal room for professional and young musicians, laboratory for music, dance and culture exchange, place for concerts and encounter...
Founder: Raman Maharjan and Thomas Bertschi, 2012

«Music and Colours to the Mind are as Light and Air to the Body» Plato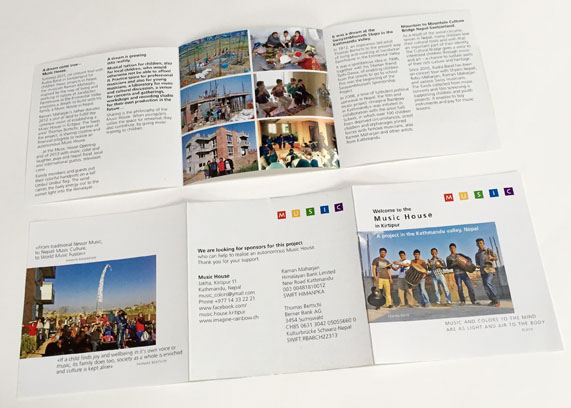 YouTube: Raman Maharjan "Peaceful Mountain Melody"


A dream come true – Music House.
Summer 2011, on concert tour with Rudra Band in Switzerland for children music projects in Nepal, the musician Raman Maharjan, inspired by the way of living and working in nature at Sandacker Farmhouse in the Emmental Valley envisions a dream to build with his family a Music House in Nepal.
His father donates 2012 a plot of land to fulfill the common vision of establishing a Music House in Kirtipur. The Swiss artist Thomas Bertschi, partner of the project, is sharing creative and financial progress to realize an autonomous Music House.
Music House opening end of 2013 with music, color and laughter, puja and nepali food, local and international guests, television crew... Family members and guests put their colorful handprint on a tall umbul umbul flag. The wind carries the lively energy out to the sunset light into the Himalayas ...
A dream is growing into reallity.
Musical tuition for children, also for local children, who would otherwise not be able to afford it. Practice space also for young musicians, a laboratory for music and cultural discussion, a venue for concerts and gatherings, workshops and recording studio for their own productions in the future ...
Sharing is the philosophy of the Music House. When youngsters utilize the space for rehearsal, they also contribute, by giving music training to children.
«From traditional newar Music, to Nepali Music Culture, to World Music Fusion»
Raman Maharjan
It was a dream at the Swayambhunath Stupa in the Kathmandu Valley.
In 1972, an inspiration led artist Thomas Bertschi to the present way of living and working at Sandacker Farmhouse in the Emmental Valley.
It was a spontanous idea in 1996, together with his Tibetan friend Tashi Dawa, of enabling two children from the streets of Swayambhunath to go to school. This was the beginning of the Swayambhunath Sponsorship Project
In 2006, a time of turbulent political upheaval in Nepal, the film and music project «Imagine Rainbow in Kathmandu» was initiated in collaboration with the artist Salil Subedi, in which over 100 children from deprived circumstances, street children and orphanages joined forces with famous musicians, also Raman Maharjan and other artists from Kathmandu.
Mountain to mountain Culture Bridge Nepal-Switzerland.
As a result of the social circumstances in Nepal, many children lose their cultural roots and with that an important part of their identity. The Cultural Bridge gives a voice to interested children through music and art – a chance to sustain parts of their rich culture and heritage.
Since 2010 Rudra band has beenon concert tour with Shyam Nepali, Babu Maharjan, Raman Maharjan and various Swiss musicians. The funds collected from music concerts and film screening is supporting children and youth projects. It enables to buy instruments and pay for music lessons.
«If a child find joy and wellbeing in it's own voice or music, its family does too, society as a whole is enriched and culture is kept alive» Thomas Bertschi
Sponsors
For this project we are looking for sponsors who will help to realise the Music House:

Bernerland Bank, IBAN-Nr.: CH85 0631 3042 0505 5660 0
PC-Konto: 30-38189-7 , Notation: "Music House"
swift code: RBABCH22313, bank clearing no: 6313