IRIK – Imagine Rainbow in Kathmandu
A film and music project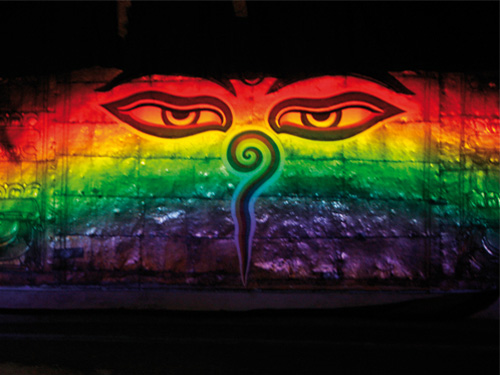 YouTube: Imagine Rainbow in Kathmandu
Background: In the year 2006 during turbulent political changes in Nepal, around 100 children were joined by musicians and artists to play with music and colors.
IRIK – imagine rainbow in Kathmandu – is the story of their colourful musical journey towards a New Nepal...
The film takes you on a journey through devastated river areas and junk-yards to the rich and vibrant heritage of the ancient valley of Kathmandu.
The children weave the film threads into a tapestry by making, learning and playing a variety of musical instruments and by painting their own stage and their Umbul Umbul Flag at different locations like mountains, lakesides, schools, shelter homes and at temple courtyards.
Street children and children living in shelter homes and orphanages along with children from very underprivileged social and economical backgrounds have participated in this film to voice their collective creativity.
The children form 5 musicgroups with well-known musicians:
Sarangi, the Nepali fiddle with Shyam Nepali.
Didgeridoo with Salil Kanika.
Rhythm with Navaraj Gurung and Shanti Rayamajhi.
Chanting with monks from Ballanye Monastery.
Composing the IRIK song with Girish Subedi, Roshan Kuwar and the rockband MUKUT.
All the songs carry the message of the longing and the dreams of the children and musicians for a better present and future.
The idea for this film and musicproject grew out of the friendship between Thomas Bertschi, Rainbow Project and Salil Subedi, a Nepalese musician and artist, initiator of "Earth Beat".