DVD and CD IRIK - Imaginge Rainbow in Kathmandu
A film and music project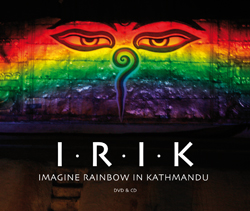 The DVD IRIK is available with English, German, Spanish, French and Japanese subtitles.
On the CD you will find touching songs by the children Bishnu Shahi, Barta Gandarva, Samuel Gandarva, Bhim Gandarva and the musicians Navaraj Gurung, Shyam Nepali, Shanti Rayamajhi, Raman Mahrjan, Sunil Bardeva, Santosh Bhakta and MUKUT.
The profit of the selling of the Video DVD/CD goes back to Nepal.
A small sequence of the film can be downloaded from YouTube.
If you would like to order the film: thomas.bertschi@bluewin.ch.
For the film IRIK a flyer in pdf format is available.