Rainbow 02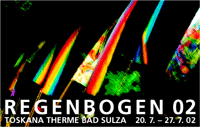 From July 20 to 27 the rainbow exhibition was hosted in Bad Sulza, a hot springs resort near Weimar, also known by the name of "Tuscany of the East".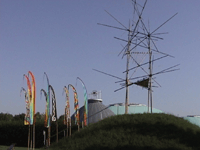 Mickey Remann, the initiator of Liquid Sound at the hot springs resort, had invited the rainbow exhibition to the Bad Sulza conference center. During the course of the exhibition three events took place:

In the exhibition area of the conference centre, the film "Regenbogen 01 – ein Dorf zeigt Farbe" (German for "Rainbow 01 - a village shows its colors") was shown.

At the rainbow full moon festival on July 24, the Naturton Quartett played at the hot springs resort: Willi Grimm, didjeridoo and Gérard Widmer, fujara, Res and Ruth Margot, alphorn and vocals.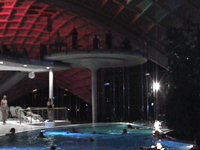 On July, 25 in the nearby Auerworld dome, built out of willows by the artist and architect Marcel Kalberer at Auerstedt, Res and Ruth Margot (alphorn and vocals) and Paul Christ (narrator) performed the fairy tale "The first alphorn"- a musical love story.

The performance marked the start of the summer festival «Magie unter Weiden» (magic under willows). The three-day festival, which has taken place every year since 1998, is organised with great care and offers experiences to all senses. Ever since the launch party of the First Rainbow Catalogue in 1999 at Auerstedt, rainbow flags have been framing the events at the willow palace and its continuing growth.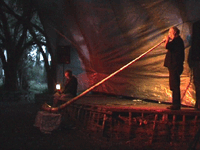 And like at Lützelflüh, at the Rainbow 02 exhibition every visitor answered the question: "What does a Rainbow mean for you?"