CDs & DVD


CD Rudra "Mountain to Mountain - Tour Switzerland live"
CD Rudra "Himalayan Breeze"
CD "Himalaya"
DVD und CD IRIK - Imaginge Rainbow in Kathmandu


CD Rudra "Mountain to Mountain - Tour Switzerland live"
A production of Rudra & imagine rainbow 2013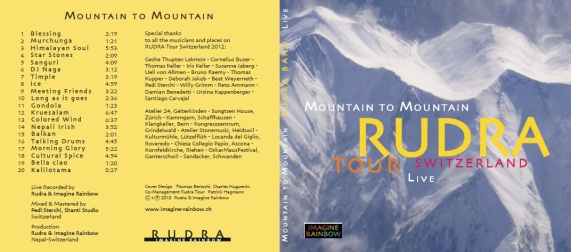 Oder to:thomas.bertschi@bluewin.ch


CD Rudra "Himalayan Breeze"
A production of Rudra & imagine rainbow 2011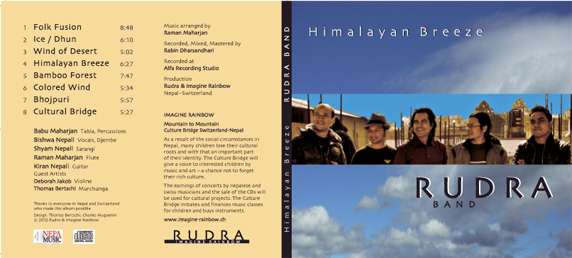 Oder to:thomas.bertschi@bluewin.ch


CD "Himalaya"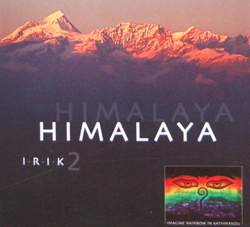 Oder to:thomas.bertschi@bluewin.ch
The new CD with musicians from Nepal is a single release with 2 x 12.30 mins of beautiful blend of multi instruments like sarangi, bamboo flute, jaw harps, didgeridoo, tabla, mouth harmonica, harmonium, tungna, sitar and guitars coloured by the joyful chorus of children interwoven in beautiful vocals singing the song "Himalaya". Chorus Children of Mitarata Children Home,: Rabin Karki, Pasang Sherpa, Swosthani Dotel, Rekha Regmi, Pooja Shah, Ishori Kulu, Anita Shrestha, Laxmi Thapa, Sangita Shrestha, Sushmita Dawadi, Raj Kumar Balami, Sudan Adhikary, Nabin Basnyat, Nayan Thapa, Krishna BC, Dilu Balami, Shilash Gurung. Musicians: Roop Kamal Chettri, Shanti Nepali, Girish Subedi, Bishow Nepali, Gopal Rasaili, Thomas Bertschi, Raman Maharjan, Salil Kanika Subedi, Navaraj Gurung, Shyam Nepali, Pramod Upadhyaya, Dhrubesh Regmi
The song Himalaya resonates in the spectrum of a rainbow of cultures and art, expressed in the form that is universal to human kind - music.
Beyond the Cloud stands firm and strong
Timeless stories in nomad's voice
Look at the valley from its conscious eyes
Rivers of cultures flowing wild
Himalaya....
The earth is waking youth are moving
Together as one in nature's cries
Rainbow it comes mountains resonate
Unity in diversity in children's voice
Himalaya....
Archaic revival east west north and south
Mountains and valleys love everywhere
We sing this song our heart as one
Time is art let's move on
Himalaya...
As with the first Imagine Rainbow in Kathmandu - IRIK DVD/CD set, the funds collected from the selling of the 'Himalaya' music CD also goes back to Nepal.
The CD contains two tracks – sung in English and Nepali languages.


DVD and CD IRIK - Imaginge Rainbow in Kathmandu
A film and music project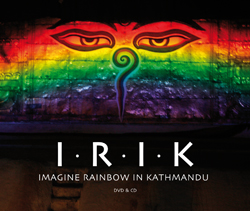 The DVD IRIK is available with English, German, Spanish, French and Japanese subtitles.
On the CD you will find touching songs by the children Bishnu Shahi, Barta Gandarva, Samuel Gandarva, Bhim Gandarva and the musicians Navaraj Gurung, Shyam Nepali, Shanti Rayamajhi, Raman Mahrjan, Sunil Bardeva, Santosh Bhakta and MUKUT.
The profit of the selling of the Video DVD/CD goes back to Nepal.